REVIEW: SONY PSP (PLAY STATION PORTABLE)
[this is a honest review, no bullshit]
[things will be said like never before in a PSP review]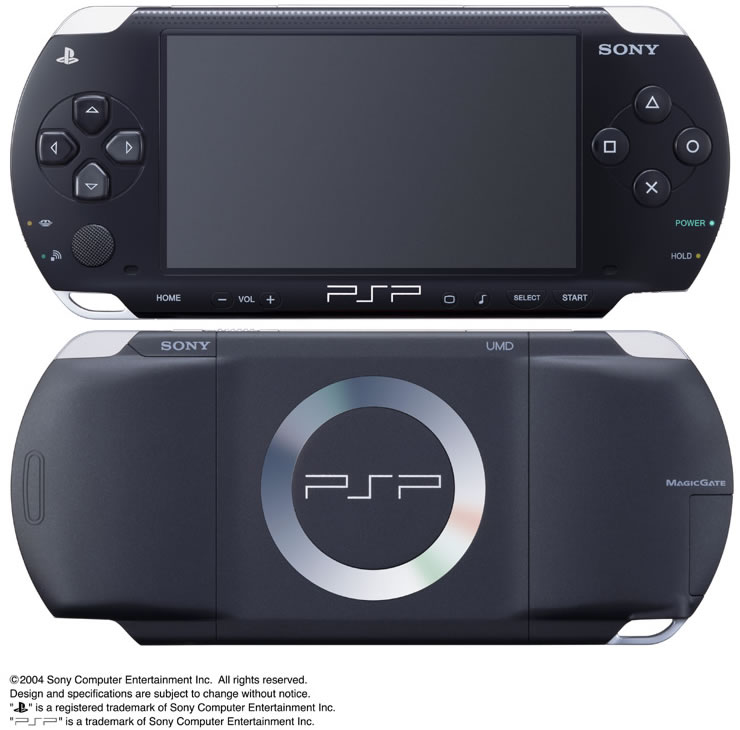 DESIGN:
lets start with its looks & design.
unlike all the NINTENDO portables ever, the PSP really does look beautifull.
looks are great shape is just right.
high quality transparrent buttons makes em look like shaped cristals.
some poeple say it easily gets scratched.
that may be, but just like with all device, treat it with care.
I never scratched mine!
the only thing I dont like is that you get ugly fingerprints on it instantaneously.
only the PSP white version prevents these nasty fingerprints on it, just because of its color.
the UMD opening cover is decorated with real alu disc shaped circle, very nice touch.
its size compared to its screen size is good, it means that the size isn't unnessecary big.
most of it is just screen. what you see is what you get.

design score: [+8] very good looking
[-2] fragile and fingerprint sensitive
PERFORMANCE:
as far as I know, the CPU = 1 ~ 333MHz runs most of the time at 222MHz (I'm not sure)
with only 32MB of ram, its very impresive!
I recently only have GTA:LCS for PSP, so this will be its so called "benchmark" for my opinion of its performance.
Video graphics performance:
estimated lowest framerate in GTA:LCS = 20fps
estimated overall framerate in GTA:LCS = 30fps
estimated highest framerate in GTA:LCS = 60+fps
it never lags the playabillity or what so ever.
Score: [+8] quite enough performance
[-2] if you are used to a PC, its never good enough
Audio performance:
very well, high quality and no crappy sounds.
you also have all the radio stations avaiable on the PSP version.
some times it has some delay loading a sound like the engine-sound for instance.
but GTA:LCS like all other GTA game is fully loaded with tons of sounds all through the game non-stop playing.
Score: [+9] for a portable, quite impressive!
[-1] only with GTA:LCS some delay loading sounds
UMD:
the datarate of the PSP reading UMD = a bit more than a 9 speed cd-rom drive (11MegaBit = 1,342MegaByte/Sec.)
this means it takes 23 minutes to readout the whole 1.8 GigaByte disc.
its not superfast, but its fast enough.
also, with higher datarate is a higher rotation speed required, which will drain the battery more.
like in GTA:LCS, the disc runs all the time while playing.
the design of the UMD discs itself, I dont understand.
it has a case/housing like a floppy has, but has no shutter.
just one big opening which leads to dust, fingerprints, scratches etc.
even dirt can get traped in its case.
another stupid thing is, when you buy a game or film UMD, the box is almost a DVD boxed size!
when getting the UMD out of its DVD alike box, you almost touch the disc with your thumb through the opening.
there is also no UMD protector case delivered with it dispite its high price.
UMD system score: [+6] has enough storagecapacity
[-4] Mindless design, comes in ridiculous big package
AUDIO:
I find the speakers in the PSP good quality with no deformation or distortion at all.
stereo seperation is good enough.
only thing I dislike is the output of the maximum loudness.
it only appears to be loud enough in a quiet environment.
but of course, the battery would drain very fast if sound volume is to loud.
also, the enclosed headphones dont even deliver half the volume anyone would desire. (this I fully dont understand why!)
Audio score: [+8] Good quality
[-2]insufficient loudness/volume
VIDEO:
screensize is satisfying.
also its screen format is very good:
(16:9 - 480x272 16,7Mcolor @ unknown refreshrate)
contrast, colors etc. its just cristal clear.
it has a response time of 25ms which is a bit slow in my opinion. (200ms should be a whole byte slow

)
ingame, while driving, things become unsharp like motionblur because of the 25ms response time.
other than that, its a great display.
another thing I think is a missed opertunity is a TV-OUT connector.
that would really be cool.
but I underrstand because of the copyright of UMD movies.
still, they could add in the firmware only not to display movies through TV-OUT to solve that issue.
I would like gaming on a TV screen, or showing photos etc.
I guess they left these features for the PSP2.
Display score: [+8] Very good quality
[-2] just a bit slow in response & no TV-OUT
CONTROLS:
the controls are very good.
it feels good in your hands, and buttons are well accessible.
all buttons feel nice when pressed.
the compact analog thumbpad is brilliant.
maybe its just a bit too sensitive, but that only requires some practice.
controls score: [+10]
CAPABILLITIES:
the PSP has a lot of capabillities.
high speed USB2.0 connection to your PC for file transfer to the PSP memory-stick.
it can also play MP3's and films you can store on the memorystick.


but I still haven't managed to be able play any movie from memorystick.
you can also put you photos on it, and show it to friends.
only the loading time of pictures is a bit long.
when zooming in, it takes just a bit too much time to sharpen it to my opinion.
of course, you can set a wallpaper on it from any picture you like.
bmp, jpg, tif, png & gif files can be used. (no ani-gif format supported)
also wifi an IR wireless solutions are present.
which allow multiplayer up to 6 players, internet browsing etc.
one nice feature is, when your battery runs out, your current game isn't lost.
you can also during gameplay turn it off, and it will freeze the game and remember where you are etc.
this feature is very nice. it allows you to set your game on pause in an instant with the best power saving available.
but dont pull the battery! if so, your current state of game will be lost.
it can also run homebrew software.
but unfortunately, sony dont want people to be able to create entertainment themselfs.
because it makes selling the original games less.
so SONY took control of it with newer firmware.
firmware 2.0+ does not run homebrew.
and thats not what SONY can use with there worldwide investment of the UMD portable disc format.
I guess SONY invests in it for the whole lifetime of the PSP.
after that, it becomes usable for other portable devices where SONY gets a share from.
the solution for this is that SONY should release an UMD software disc which alows to run downloadable games etc.
with also some abandonware like amiga emulator etc. on it.
this way they can make money with this feature.
now, a lot of people try to downgrade to ver 1.5
and also, the homebrew creators stoped there updating, because the PSP nolonger supports it.
this whole thing is also a missed opertunity, which maybe comes on the PSP2.
who knows
Features score: [+8] very usefull features
[-2] no ani-gif, slow loading pictures, no 3rd party games (homebrew)
OVERALL: [8] out of 10
MINORS:
no build-in microphone
- solution: buy the software TALKMAN, there is no other use for the microphone supported on the PSP (as far as I know)




no TV-OUT
- solution: buy 3rd party crap if you must.


( Click Image )

nasty fingerprints
- solution: buy the PSP white version




insufficient speaker loudness
- solution: buy the Logic3 SoundGrip


( Click Image )

most of its original stuff is expensive like games, umd films etc.
- you must realize that you invest in
SONY COMPUTER ENTERTAINMENT Inc.
REVIEW BY: F. Kalkman